Congratulations to our top eight contest designs! Check out all the creativity below and cast your votes for your favorite design on the form below. Winning artwork will be featured on glassware at breweries across the state later this year.
Please cast one vote per person after reviewing the designs and artwork descriptions below.
---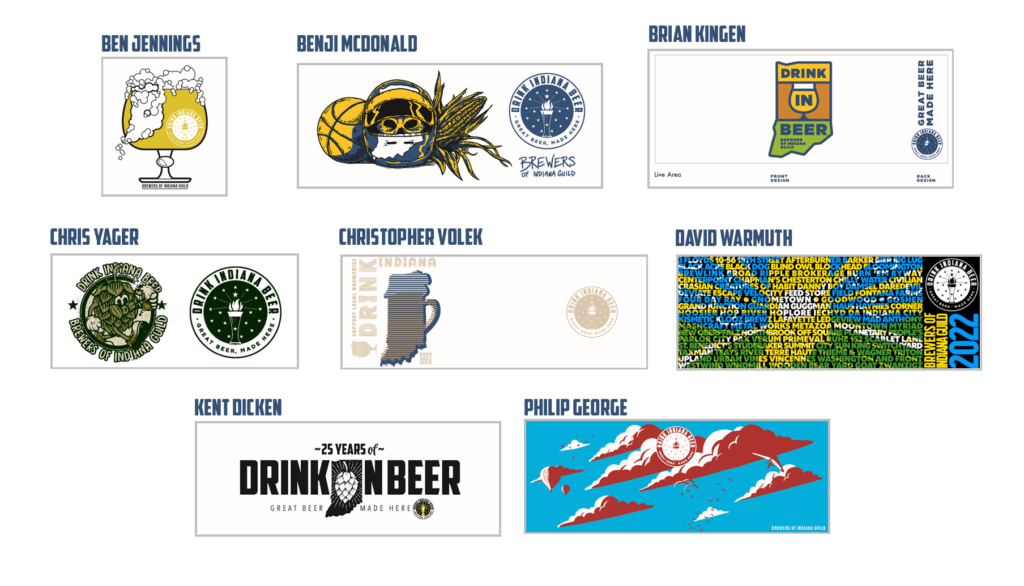 ---
VOTE HERE!
---
ARTWORK DESCRIPTIONS
Ben Jennings
A delightful challis of locally brewed beer bubbles over the glass. The suds coincidentally form the shape of the State of Indiana in a whimsical manner. The deliciousness is palpable as this glass of craft beer is begging to be consumed. The Brewers Of Indiana Guild, the local breweries and all the consumers of locally crafted beer will delight in consumption of their favorite libation. Especially when it is enjoyed from a glass decorated with this whimsical insignia of hard work, determination and most importantly, fun.
Benji McDonald
Coming up with a design that could potentially appeal to every craft beer drinker in Indiana was tough, so ultimately I decided to create something that screams "Indiana" as soon as you see it. Basketball, racing (Indy 500 and Brickyard!), and corn all seem to sum up Indiana pretty well. Plus there's a skull inside the racing helmet because I think people like skulls. My personal style is heavily influenced by comic book art and everything was hand-drawn digitally using a Wacom tablet. I used the blue and yellow colors of the Indiana state flag/Drink Indiana Beer logo to tie it all together, and I left the Indiana "decal" on the racing helmet transparent so that whatever beverage you're drinking would act as the fill color. Ideally, if this design were printed on a glass, the center of the helmet would align exactly 180 degrees around the glass from the DIB logo, but I'm bad at math and wasn't sure of the exact measurements so I gave it my best guess. I hope you like it!
Brian Kingen
I love beer. I love Indiana. I also love design. When you merge those, good things can happen. Like beer as well as a community that embraces all of it. My inspiration is drawn to the focus of beer being 'IN' the shape of the Indiana outline. Colors are pulled from the existing DrinkIN.beer logo/website.
Chris Yager
Vintage whistling hop.
Christopher Volek
Who doesn't love a refreshing mug of beer straight from the tap, with the perfect creamy head of foam? I know I do! Indiana is bursting with fresh craft beer, and new breweries are constantly popping up throughout the state. I figured what better way to represent a state overflowing with amazing beer than by mashing the state silhouette and a beer mug into one design. Inspired by conversations with friends who love beer and looking at Synthwave/Outrun styles of art, I present for your consideration "Foamy Indiana" to become this year's Brewers of Indiana Guild's beer glass design.
David Warmuth
My design features the names of all the 2022 Brewers of Indiana Guild member breweries, overlayed with a stylized Indiana scene with some symbolic elements. A silhouette of the state is in the center, with the rays of the sun projecting out, as a nod to our state seal. I incorporated a green and yellow farm field, to represent Indiana's strong agricultural history and our locally grown ingredients. Finally, there is a highway running in and out of the state silhouette, to represent Indiana's heritage as the Crossroads Of America.
Kent Dicken
While I don't normally enter contests like this, the Brewers Guild has been a big supporter of OptiPark in Broad Ripple for several years, allowing us to run games at your events and raise donations for the park. So I thought this might be a good way to say Thanks!
Philip George
A beautiful day here in Indiana, up in the sky, folks enjoying the fresh air and some time in the clouds. Great day for a pint from my point of view.