New this year, 6 Indiana member breweries have collaborated to bring you an exclusive beer release celebrating the 25th anniversary of our premiere guild event, Indiana Microbrewers Festival!
This extremely limited release will be sold as a 6-pack variety featuring the deliciously creative brews below. The collectors' cans will be featured in an IMF-branded set and will be available for pickup at the Indiana Microbrewers Festival.
This is sure to be a sell-out so purchase your pack today!
This release is also a kickoff fundraiser for our newest guild education initiative, the Brewers of Indiana Guild Brewery Education Fund.
PLEASE NOTE: The release packs are available for pickup inside the festival, so a festival ticket is also required to be able to pick up your release pack.
The purchase price is $40 plus sales tax and the release is limited to the first 500 customers.
PURCHASE BEER RELEASE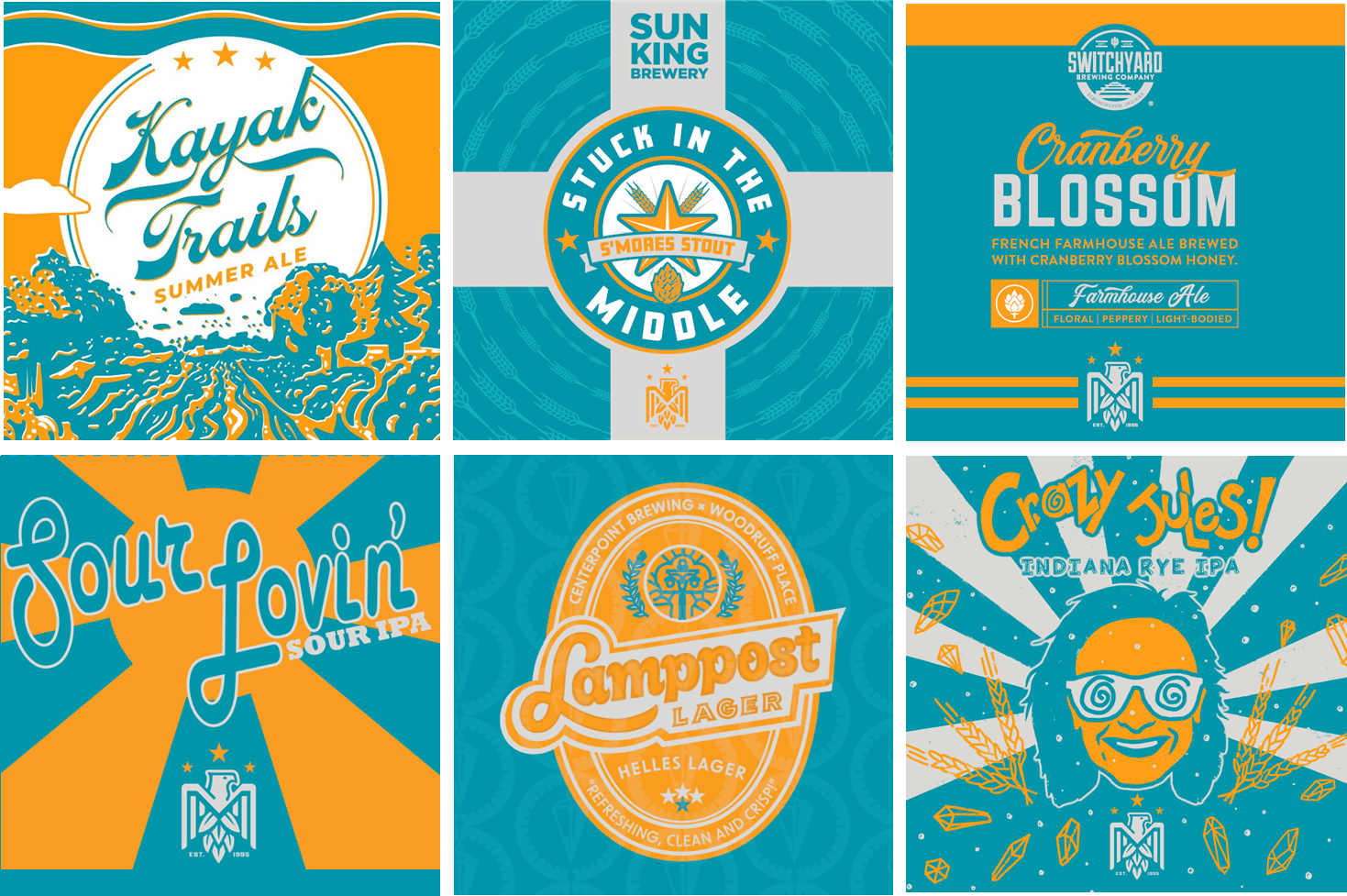 Centerpoint Brewing Company
Lamppost Lager –  Helles Lager

12oz. can  / 4.5% ABV

This German-style Helles Lager is full-bodied with a touch of bready, malt sweetness to balance the flavor and bitterness of the noble hops. Clean and crisp, this is a refreshing beer with substance to be enjoyed daily.

---
Creatures of Habit Brewing Co.
Crazy Jules  –  Indiana Rye IPA
16oz. can  /  7.5% ABV
 This tasty Indiana Rye IPA was brewed with Sugar Creek Malt Co. rye, Crystal Rye Malt, and 100% Indiana-grown hops from Crazy Horse.

---
Hop River Brewing Company
Kayak Trail –  Summer Wheat Ale

16oz. can  / 8.5% ABV

---
People's Brewing Company
Sour Lovin' –  Sour IPA

12oz. can  / 6.5% ABV

This experimental batch is our first go with a sour IPA style beer, but we are pretty excited about it.  We started with a traditional American Style IPA, kept it light on the malts and developed approximately 65 IBUs with Chinook, lending pine and resin, and a large Cryo Ekuanot dryhop for a big juicy aroma.  The twist on this IPA is a citic sourness which sends the complexity to a new level.

---
Sun King Brewing
Stuck in the Middle –  S'mores Stout

16oz. can / 10.0% ABV

Stuck in the Middle is a S'mores-inspired Stuck in the Middle Imperial Stout with Lactose.
---
Switchyard Brewing Company
Cranberry Blossom –  French Farmhouse Ale

16oz. can  / 6.0% ABV

Enjoy our summer take on a classic Farmhouse ale. We added Cranberry Blossom honey to give this beer a subtle berry flavor and a smooth, dry finish.